Study and learn the Holy message of God from your cell phone or Tablet. It has never been so easy to read the Bible!
We offer a new Bible offline, the American Standard Version (ASV), a revision of the renowned King James Bible, the original authorized by the King James of England in 17th century.
The application is free and offline, allows you to read and study the Bible without an Internet connection.
The Bible is a wonderful collection of books that we must always read and meditate, study and reflect, practice and live, as it is the largest encyclopedia of divine spiritual resources that helps us to be better humans in all areas of our life.
" For the Word of God is living and powerful and sharper than any twoedged sword…" Hebrews 4.12.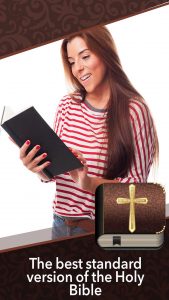 In the Bible, you can find answers and solutions to many of the problems you face in your life. The Bible is the only source of truth and faith because it's inspired and written by God. All scripture is given by inspiration of God. His divine power has given to us the holy words.
The Bible contains all that we need to know concerning life, godliness, and salvation. Being complete and unalterable, it then is our only source of truth.
Now you can experience the power of the Bible on your phone, browse your favorite books, chapters and verses. You'll love having the Bible on your phone and be able to read it anytime on the go!
Download the complete Bible, with 66 books divided into two main parts: The Old and the New Testament.
The Old testament has 39 books: Genesis, Exodus, Leviticus, Numbers, Deuteronomy, Joshua, Judges, Ruth, 1 Samuel, 2 Samuel, 1 Kings, 2 Kings, 1 Chronicles, 2 Chronicles, Ezra, Nehemiah, Esther, Job, Psalms, Proverbs, Ecclesiastes, Song of Solomon, Isaiah, Jeremiah, Lamentations, Ezekiel, Daniel, Hosea, Joel, Amos, Obadiah, Jonah, Micah, Nahum, Habakkuk, Zephaniah, Haggai, Zechariah, Malachi.
The New testament has 27 books:  Matthew, Mark, Luke, John, Acts, Romans, Corinthians 1 and 2, Galatians, Ephesians, Philippians, Colossians, 1 Thessalonians, 2 Thessalonians, 1 Timothy, 2 Timothy, Titus, Philemon, Hebrews, James, 1 Peter, 2 Peter, 1 John, 2 John, 3 John, Jude, Revelation.