Enjoy this Bible app, 100% free, specially made for you! An easy-to-use app with a very nice design that allows you to search books and verses very fast and easily.
Download the app now for free on your smartphone or tablet Android. Now the Word of God is with you wherever you go!
Carry the most important English Bible with you: King James Version.
Being a good religious is easier than ever! Get the KJV Bible at your fingertips!
Best of all, you can read it without being connected to the Internet.
The Bible is the best book in the world and the most important you will ever read.
Start today!  You will not be the same after you read the Bible. Enjoy today on your phone the best English Bible of all time: King James Version.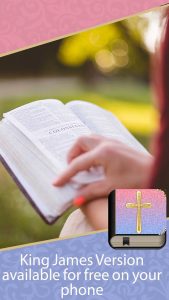 Feel closer to God studying the Word of God every day!
Download the complete Holy Bible King James, divided into the Old and the New Testament:
The Old Testament is composed of 39 books: Genesis, Exodus, Leviticus, Numbers, Deuteronomy, Joshua, Judges, Ruth, 1 Samuel, 2 Samuel, 1 Kings, 2 Kings, 1 Chronicles, 2 Chronicles, Ezra, Nehemiah, Esther, Job, Psalms, Proverbs, Ecclesiastes, Song of Solomon, Isaiah, Jeremiah, Lamentations, Ezekiel, Daniel, Hosea, Joel, Amos, Obadiah, Jonah, Micah, Nahum, Habakkuk, Zephaniah, Haggai, Zechariah, Malachi.
The New Testament is composed of 27 books:  Matthew, Mark, Luke, John, Acts, Romans, Corinthians 1 and 2, Galatians, Ephesians, Philippians, Colossians, 1 Thessalonians, 2 Thessalonians, 1 Timothy, 2 Timothy, Titus, Philemon, Hebrews, James, 1 Peter, 2 Peter, 1 John, 2 John, 3 John, Jude, Revelation.