If you are looking for an easy to read Bible, this is the perfect app for you! If you sometimes find difficult to read the Bible, here you have an App that offers you a version in basic and present-day English.
Our app offers an easy and comfortable way to read the Holy Bible.
We present the Bible in basic English (BBE), the translation of the Bible in Basic English, specially made for people with limited education or where English is a second language.
Download the best app for Bible study, and use it even when not connected to Wi-Fi. This offline app works without internet connection.
Bring the beauty of the God's Word to your everyday life. With Easy to understand Bible Free you can read the Bible at home, on the bus, during Sunday service, carry on your personal Bible everywhere you go!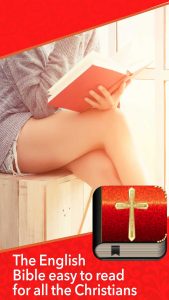 Heaven and earth will pass away, but my words will never pass away. (Matthew 24:35)
The Bible is a unique book. It was written on three different continents, in three different languages, by 40 others over a period of over 1500 years. Despite this, The Bible has an incredible unity.
As a divine book, the Holy Bible is perfect, infallible, inspired By God. It contains within its pages everything that we need to please God and live a life of faith and joy.
Download the Holy book, learn more about God and live as a Christian.
Download the complete Bible in basic English, divided into two major sections: The Old and the New Testament.
The Old Testament has 39 books and more than 23.000 verses: Genesis, Exodus, Leviticus, Numbers, Deuteronomy, Joshua, Judges, Ruth, 1 Samuel, 2 Samuel, 1 Kings, 2 Kings, 1 Chronicles, 2 Chronicles, Ezra, Nehemiah, Esther, Job, Psalms, Proverbs, Ecclesiastes, Song of Solomon, Isaiah, Jeremiah, Lamentations, Ezekiel, Daniel, Hosea, Joel, Amos, Obadiah, Jonah, Micah, Nahum, Habakkuk, Zephaniah, Haggai, Zechariah, Malachi.
The New Testament has 27 books and more than 7900 verses: Matthew, Mark, Luke, John, Acts, Romans, Corinthians 1 and 2, Galatians, Ephesians, Philippians, Colossians, 1 Thessalonians, 2 Thessalonians, 1 Timothy, 2 Timothy, Titus, Philemon, Hebrews, James, 1 Peter, 2 Peter, 1 John, 2 John, 3 John, Jude, Revelation.